Below are what to see in Hue – some highlights of Hue and the surrounding vicinity

Receptionists would be more than pleased to recommend and tailor make any excursions that interest you.
Introduction to Hue city
Hue is the grand old dame of Vietnam. This once imperial city harbors some truly awe inspiring palatial structures that cannot be appreclafed in just a weekend. Broaden your itinerary beyond the citadel and you'll discover a city that balances both ageless regal charm with a vibrant and contemporary cafe and art scene. Entrance fees average between 50.000VND to 150.000 VND for historic sites
The Citadel
The Citadel

is Hue's main attraction having served as the primary residential estate of the royal family. Build by Emperor Gia Long in 1804 on auspicious ground (determined by royal -appointed geomancers) the Citadel is a colossal structure that sprawls out over the vast majority of the city centre.The square- shaped foundation is surrounded by 10km long walts that are two metre-high. The flag tower is the highest in VietNam. Beside the tower are the impressive Nine Hotly Cannorns

Tip: Enter near the Flag Tower, open everyday from 8 am to 5pm. For 5,000 VND your can feed the carp fish in the pond near to the entrance.
Hue Royal Antiquities Museum
Housed in the An Dinh residence, a decorate building of French architectural influence,the Hue royal Antiquities Museum has more than 300 relics in its showroom- the royal family tea sets are particylarly beautiful. The residence was built in 1980 by King Khai Dinh and presented to his son the last reigning emperor, King Bao Dai
Tip: Open daily from 8 am to 12pm and 2am to 5pm. Near the Citadel – Le Truc street
Dong Ba market
While many aspects of this market seem typically Vietnamese, it remains a cultural symbol in Hue, particularly as it showcases traditional delicacies and crafts. Purchase sweet sesame Hue cakes or seek out bronze, pottery and ceramics. Not for the faint-hearted, you'll see the  jars of tom chua-shrimp preserved in chili and ginger everywhere.

Tip: East corner of the Citadel /Open daily 6am to 6pm
Minh Mang's Tomb
In the spirit of the world's great wonders, the Minh Mang tomb complex is one of immense beauty and symmetrical genius. Be willing to take your time exploring this subtler, there are 40 constructs (palaces, temples, pagodas and pavilions) that lead up to the surrounding wall of sepulcher.

Tip: 12km from city centre on Cam Ke mount/ Open everyday 8am to 5pm
Khai Dinh's Tomb
A celebration of Vietnamese grandeur and French opulence, this elevated tomb site is simply spectacular. The stone steles bodyguard statues and stairs leading up to the altar create an ethereal ambience when combined with the mountainous view, inside the main chamber, mosaic tiles and gold decor produce a breathtaking effect. Khai Dinh died during the construction of the tomb which took 11 years to complete. It was the last of the grand Nguyen dynasty tombs.

Tip:10km south of hue city/open everyday 8am to 5pm.
Gia Long Tom's
Due to its distance, few venture out to the marvelous tombs of emperor Gia Long, who reigned until 1820, surrounded by old pine forests on the west bank of the Perfurme River, this tomb has regal atmosphere and classic design. Spectacular views complement this significant monument.

Tip: 20km south of the city centre /Open daily 8am to 5pm. No entrance fee.
Tu Hieu Pagoda
This pagoda epitomizes the tranquil setting one expects of a Buddhist place of meditation and learning.  Tu Hieu is the place Zen Master Thich Nhat Hanh lived when he was young. It was financially supported by eunuchs in the imperial court in the latter part of the 19th century and their graves are ensconced within its grounds Duong Xuan HThuong III hamlet.
Tip: 5km southwest of city center/Open daily. No entrance fee.
Tu Duc's Tomb
Encapsulating the Feng Shui principles and imperial design befitting an Emperor, Tu Duc's tomb is set in a narrow woodland valley, with a lake, pond and the usual temples, pavilions, stele house and sepulcher.

Tip:8km from city centre.Duong Xuan Thuong village/Open daily 8am to 5pm
Incense and conical Hat Village
Near the Tu Duc tomb, make sure you stop by this roadside village and observe how the locals make sandalwood and cinnamon incense as well as traditional Hue conical hats. Colorful stalks of incense are bunched together , and sample pieces are lit so that there is a pleasant aroma in the air, Thu Xuan Hat, 7km south of city center on the way to the Tu Duc tomb.

Tip: The "non" or conical hat is most famous from Hue. With its distinctive high quality bamboo leaves often interlaced with pink paper pictures and Vietnamese poems
Vong Canh Hill
Just 43m high, the hill is located 7km from 

Hue

 centre, with its foot lying next to slowly flowing Perfume River. On the way to 

Tu Duc Tomb

, there's a hill called Vong Canh, tourists shouldn't miss this spot, for it has been regarded as the best place to catch a panoramic view of the Perfume River. This can easily be seen from its name: "Vong" means watch, observe; "Canh" means scene.
Tiger Arena
Ho Quyen, or the Tiger's arena, is the Asian version of a Roman coliseum.It was exclusively used for entertaining the Emperors and nobility. An unusual find in Southeast Asia,this temple was last used in 1909 but the structure remains well-preserved. Here distinguished spectators would watch elephants, tigers and leopards battle one another in the ring.

Tip: 4km from the city center on the South bank of river /Open daily during daylight. No entrance fee.
The Garden Houses
Hue's garden houses are illustrious examples of grand dynasties past. Each is built with traditional old timbers, featuring typical brick, roofing of Hue, and set amidst beautiful landscaped gardens. Houses are privately owned, usually by descendents of the royal family. Popular examples are An Hien, Ngoc Son, Lac Tien,Y Thao and Tinh Gia Vien Phu Mong/ Kim Long ward/ Open daily by appointment

Tip: Many houses double as a restaurant and require a reservation
Thien Mu PAGODA
Translating to "Heavently Lady " this pagoda is named after and an old woman who prophesied that a Lord would come and build a Buddhist temple in 1610. One of the oldest of Hue's pagodas, Thien Mu an iconic must-visit sight, especially during sunset. The Austin which Thich Quang Duc drove to protest President Diem's regime before his self- immolation in 1963 is housed in the pagoda

Tip: 3km from the city centre on Ha Khe hill/Open everyday during daylight hours. No entrance fee.
Temple of Literature
Dedicated to scholars of Confucianism,the Temple of literature was established by the Nguyen emperor, Gia Long. It comprises a rectangular area with an austere gateway marking the entrance and 32 stone steles held within, bearing the names of academics.

Tip: 1km west of the Thien Mu temple/open everyday. The view of the pertume River from here is spectacular. No entrance fee.
Huyen Khong Son Thuong Pagoda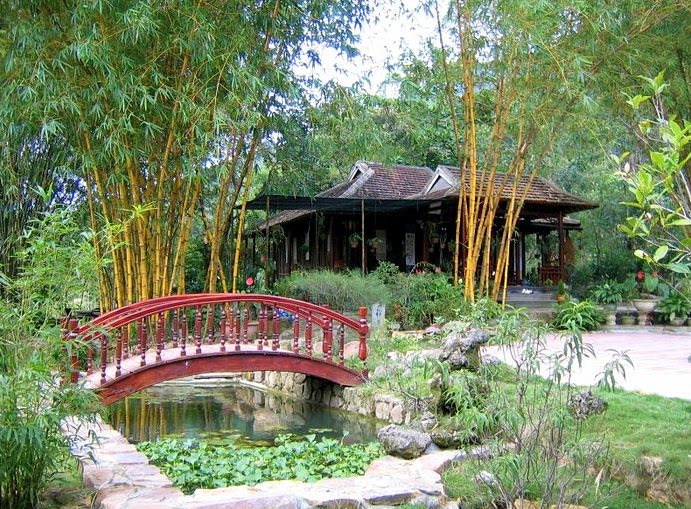 This modern pagoda is not in the guidebooks, a favorite among locals. This peaceful place of worship is dedicated to the principles of Theravadic Buddhism, its surrounds also provide a romantic backdrop.Tip: 7km west of Thien Mu Pagoda/open daily 8am to 5pm.The resident monks are also dedicated orchid growers,look for their garden.
Huong River
Hue's majestic Huong River is intrinsic to the city's livelihood and a visit would be incomplete without a river cruise. Both long boats and colorful barges can be rented, with the most common route from the main city centre to Thien Mu Pagoda. The longer joumey to Gia Long tomb is delightful. You can book boat tickets at Toa Kham boat station.
Van Van Tomb
( The abandoned Tomb near Rubis Hostel)
Tombs of the Nguyen dynasties, mostly located in the hills outside the city of Hue. However, The Van Van tomb lies between the plain, which was the land of An Cuu village, now is An Dong ward, only 100 metres from Rubis Hostel. Van Van is just 3km to the southeast of the Citadel. It was the funeral of Duong Thi Thuc (1868 – 1944), commonly known as Tien Cung, the wife of Emperor Dong Khanh, the mother of Emperor Khai Dinh, the grandmother of Emperor Bao Dai.
Tip: Guests can see the tomb from the windows on the Rubis Hostel's third floor.
Thanh Toan Brige
The sister bridge to Hoi An's famed Japanese bridge, this bridge is arguably more distinct. Thanh Toan bridge has a Chinese and Janpanese feature,with a rare squared timber arch speckled with ancient ceramics. Note the calligraphy inscription in ancient Vietnamese and Chinese script. The bridge is difficult to find but the countryside trek worth it.

Tip: 7km east of city/Centre/Open daily during daylight hours.Visit the small museum of agriculture near the bridge. Interesting old tools are on display. You won't regret it.
Tam Giang -Cau Hai Lagoon
This lagoon

system spans over 70km, making it the largest in all of Southeast Asia. The brackish coastal lagoon is fed by four different rivers ( O Lau, Bo, Huong, Truoi rivers) and is one of the most important sources of fish (and therefore protein) in the area. Approximately half million people make their livelihood from the lagoon. Thua Thien Hue province, south of Hue between Hue and Lang Co

Tip: Oyster -lovers should make a stop along the lagoon side at Lang Co to eat these fresh or in a locally made soup.
Bach Ma National Park
Hiding his fine old green in the white cover of cloud all year round,

Mount Bạch Mã

(White Horse) still secretly shows off his impressive and mysterious figure. In order to discover him, there is nothing you can do but experience a long trip to the top of the 1,450-meter high mountain.

Until now, Bạch Mã remains a pristine forest. Located 40 km from Huế City to the South, Bạch Mã is an ideal summer retreat. Nowhere else is more suitable to leave the bustling and busy life in the city behind than to escape to Mount Bạch Mã. Pure and cool air never refuses to refresh your mind and give you more energy.

Tip: To get there you can book a tour with about $25, including travel bus, entrance fee, English speaking guide, picnic lunch and insurance.
---